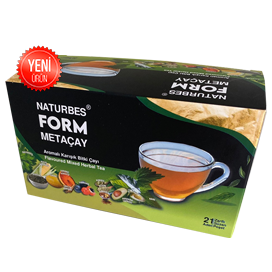 NATURBES FORM METACAY (New)
Naturbes Form Metaçay is out, which will support your exercise and diet, block your appetite on the one hand, accelerate your metabolism on the other, and give you pleasure with its smell and taste.
BLACK TEA
One of the most widely used beverages worldwide, tea is a rich source of pharmacologically active molecules thought to provide a variety of health benefits. The main active compounds in tea are antioxidant substances called polyphenols, which have many health benefits. Various studies have proven that tea polyphenols have positive effects on cancer, obesity, diabetes, high blood pressure and cardiovascular diseases.
Antioxidant substances in tea protect us from cancer!
In studies conducted to observe the effects of black tea on cancer, it has been shown that the polyphenols contained in tea are effective in preventing lung, skin, prostate and breast cancers. In a study conducted in 2008, it was proven that epigallocatechin gallate, one of the tea polyphenols, causes the death of breast cancer-forming cells, therefore, black tea is a 'chemopreventive' agent.
Tea protects us from the risk of stroke by protecting our heart health!
Studies have reported that tea consumption has positive effects on cardiovascular diseases. These studies have proven that black tea reduces blood pressure and protects the structure of the vessels. We can say that another benefit of tea is that it reduces the risk of stroke in individuals. Studies show that drinking more than 3 cups of black tea a day reduces the risk of stroke by 21% compared to those who drink 1 cup of black tea a day.
Black tea consumption means a reduced risk of diabetes!
In a 2009 study that investigated the effect of black tea on diabetes on 1040 older adults, it was found that long-term black tea intake was associated with a lower risk of diabetes. Another study has proven that black tea helps to increase the use of insulin in the body, and accordingly, black tea has positive effects on blood sugar.
Tea helps us to prevent obesity and obesity-related diseases!
Studies have reported that black tea catechins are also beneficial in suppressing high-fat diet-induced obesity. It was determined that those who consumed black tea for 12 weeks had a significant decrease in body weight, waist circumference, and plasma triglyceride and LDL levels. Changes in the gut microbiota may be the basis of black tea's anti-obesity properties! Studies have shown that black tea consumption increases the bacterial diversity in the intestinal flora and increases the antiobese bacteria.
Black tea helps our nerve cells to be healthier!
Neurological diseases are diseases that have an increasing incidence in our age and significantly affect the quality of life. In studies investigating the effects of black tea and its effects on neurological health, it has been shown that antioxidant substances in black tea protect the structure of nerve cells.
Black tea makes you focus more easily!
Black tea contains caffeine and an amino acid called L-theanine. L-theanine reduces the body's stress and prevents anxiety disorders in individuals. It also reduces the risk of stroke and protects nerve cells and benefits us in terms of brain health.
1- Khan N. Mukhtar H. Tea Polyphenols in Promotion of Human Health. Nutrients. 11(1):1-16, 2018.
2- Hayat K. Iqbal H. Malik U. Bilal U. Mushtaq S. Tea and Its Consumption: Benefits and Risks. Critical Reviews in Food Science and Nutrition. 55(7):939-54, 2013.
3- Tang GY. Meng X. Gan RY. Zhao CN. Liu Q. Feng YB et al. Health Functions and Related Molecular Mechanisms of Tea Components: An Update Review. International Journal of Molecular Sciences. 20(24), 3-42, 2019.
HIBISCUS
The hibiscus plant, also known as the pomegranate flower with its dark red color, has many proven benefits to date. Hibiscus, whose homeland is Africa, is also found in various parts of the world today. It was used in the treatment of heart and throat diseases in the region where it was grown. Studies have reported that hibiscus has anti-oxidant and antibacterial properties, balancing blood pressure, lowering bad cholesterol, reducing the amount of fat in the body.
1- It lowers blood pressure!
In a study investigating the effect of hibiscus on blood pressure, individuals aged 30-70 drank 240 ml of hibiscus tea 3 times a day for 6 weeks. At the end of 6 weeks, they observed that the systolic blood pressure of the individuals decreased.
2- By protecting our hibiscus cells, it protects us from cancer and aging!
Due to various metabolic events, poor diet and smoking in our body, some harmful substances are released. To counteract the effects of these harmful substances, we take a kind of beneficial compound called antioxidant, which protects us from cancer and infections. Studies have reported that the antioxidant power of the hibiscus plant is high. This is because the hibiscus plant contains a powerful source of antioxidants called anthocyanins.
Hibiscus helps protect your vascular health!
The hibiscus plant contains an antioxidant called polyphenol. The polyphenols in the content of the hibiscus plant have been proven by studies to reduce bad cholesterol. In studies on the prevention of obesity and heart disease, hibiscus has been shown to be effective in reducing body weight and lowering blood cholesterol levels.
4- Protects us against diseases!
Vitamin C is a vitamin that strengthens our immune system and provides repair of body tissues. Studies have reported that hibiscus has a high content of vitamin C. It is useful to take advantage of hibiscus to prevent flu infections in winter.
1- Mckay DL. Oliver Chen CY. Saltzman E. Blumberg JB. Hibiscus sabdariffa L. tea (tisane) lowers blood pressure in prehypertensive and mildly hypertensive adults. J Nutr. 140(2):298-303, 2010.
2- Tseng TH. Kao ES. Chu CY. Chou FP. Wu L. Wang CJ. Protective Effects of Dried Flower Extracts of Hibiscus sabdariffa L. against Oxidative ',Stress in Rat Primary Hepatocytes. Food and Chemical Toxicology 35;1159-64, 1997.
3- Tsai PJ. McIntosh J. Pearce P. Camden B. Jordan BR. Anthocyanin and antioxidant capacity in Roselle (Hibiscus Sabdariffa L.) extract. Food Research International. 35;351-56, 2002.
4- Salleh MN. Runnie I. Roach PD. Mohamed S. Abeywardena MY. Inhibition of Low-Density Lipoprotein Oxidation and Up-Regulation of Low-Density Lipoprotein Receptor in HepG2 Cells by Tropical Plant Extracts. J. Agric. FoodChem. 50(13):3693-97, 2002.
5- Tee PL. Yusof S. Mohamed S. Umar NA. Effect of roselle (Hibiscus sabdariffa L.) on serum lipids of Sprague Dawley rats. Nutrition & Food Science 32(5):190-196, 2002.
6- Al-Saadany SS. Sitoyh MZ. Labib SM. Al-Massry RA. Biochemical dynamics and hypocholesterolemic action of Hibiscus sabdarifTa (Karkade). Food / Nahrung. 35(6):567-76, 1991.
MINT EXTRACT
Peppermint is a plant that has been used medicinally for thousands of years and has different effects on health. Among the known effects of mint is the feature of being a pain reliever. Thanks to its antioxidant properties, it reduces inflammation and protects against colds. Reducing gastrointestinal spasms and stress is one of the other known benefits of mint.
1- Mint regulates cognitive performance, sleep and mood!
In a study to examine the effects of peppermint extract on age-related memory impairment, a group of 90 people was divided into 3. 30 people were given a capsule of peppermint extract (900 mg) twice a day, 30 people were given peppermint extract (600 mg) twice a day, and another 30 people were given another capsule containing 0 mg of peppermint extract. At the end of 90 days, positive changes (increase by 15%) were observed on the state of consciousness, sleep and mood in individuals given peppermint extract.
2- It prevents the progression of Alzheimer's and dementia!
Recent studies have shown that peppermint extract and rosmarinic acid suppress the development of amyloid fibrils, which play a role in the progression of Alzheimer's and dementia.
3- It has therapeutic properties for Polycystic Ovary Syndrome!
Polycystic ovary syndrome (PCOS) is a complex reproductive and endocrine disorder of women of reproductive age. Peppermint (Mentha spicata L.) has anti-androgenic activity. In studies, it has been observed that peppermint extract and flaxseed improved the endocrine profile of the ovaries of individuals in PCOS cases.
4- Increases antioxidant capacity!
Antioxidants are substances that increase our ability to cope with diseases. In studies conducted to measure the antioxidant power of peppermint extract, it was proven that peppermint caused a decrease in lipid peroxidation in liver tissues and increased cellular glutathione levels. All these show us that mint has high antioxidant defense power.
5- It is effective in the treatment of diabetes and lowering cholesterol!
In a study conducted in 2017, it was determined that peppermint extract reduced blood sugar and bad cholesterol levels in diabetic rats.
1- Herrlinger KA. Nieman KM. Sanoshy KD. Fonseca BA. Lasrado JA. Schild AL et al. Spearmint Extract Improves Working Memory in Men and Women with Age-Associated Memory Impairment. J Altern Complement Med. 24(1):37-47, 2018.
2- Mehraban M. Jelodar G. Rahmanifar F. A combination of spearmint and flaxseed extract improved endocrine and histomorphology of ovary in experimental PCOS. J Ovarian Res. 20;13(1):2-8, 2020.
3- Ogawa K. Ishii A. Shindo A. Hongo K. Mizobata T. Sogon T et al. Spearmint Extract Containing Rosmarinic Acid Suppresses Amyloid Fibril Formation of Proteins Associated with Dementia. Nutrients. 12(11):3-14, 2020.
4- Wu Z. Tan B. Liu Y. Dunn J. Guerola PM. Tortajada M et al. Chemical Composition and Antioxidant Properties of Essential Oils from Peppermint, Native Spearmint and Scotch Spearmint. molecules 24(15):2825, 2019.
5- Bayani M. Ahmadi-hamedani M. Javan AJ. Study of Hypoglycemic, Hypocholesterolemic and Antioxidant Activities of Iranian Mentha Spicata Leaves Aqueous Extract in Diabetic Rats. Iran J Pharm Res.16(Suppl):75-82, 2017.
AVOCADO LEAF
avocado leaf; It is rich in flavonoids, polyphenols, terpenes and serotonin. It also contains beneficial minerals such as magnesium, sodium, manganese, calcium, iron, zinc, potassium, zinc, selenium and phosphorus. Flavonoids and polyphenols are powerful antioxidants. Antioxidants protect us from heart and cancer diseases by increasing the activity of the immune system.
1- It slows down the reproduction of cancer cells!
Thanks to the antioxidant enzymes it contains, avocado leaves protect your body from cancer by protecting the body against free radicals. This effect is due to the slower aging of your cells. Thus, it delays aging and supports skin health.
2- Flavonoids protect kidney functions!
3- Protects the liver!
Another finding, based on the antioxidant properties of avocado leaf, is its effect on liver functions. In a study, it was determined that avocado leaf reduced liver toxicity and decreased liver enzyme values.
4- Improves sleep and stress levels!
Serotonin, popularly known as the happiness hormone, is a neurotransmitter substance that has an effect on the body's mood and behavior. Its deficiency results in a depressed and tired mood. Thanks to the serotonin it contains, avocado leaves positively affect stress and anxiety and improve mood.
5- It ensures the regular and healthy functioning of the digestive system!
Avocado leaf contains substances called terpenes that help regulate the functions of the intestines.
6- It helps to reduce the symptoms of asthma disease!
Avocado leaf is an important active substance that helps to clean the mucous membrane, called pinene, and is a pulmonary expectorant. If you are suffering from asthma, avocado leaf can be a solution for this. Pinene also has antimicrobial properties. It protects our body against microbes.
7- It runs the metabolism!
Avocado leaves contain quercetin, which acts as a diuretic. This substance activates the metabolism and helps to remove waste products by metabolism.
8- It is good for diabetes and cholesterol!
Glycosides help us to prevent diabetes by eliminating the body's need for sugar. Limonene, found in avocado leaves, helps maintain vascular health by lowering cholesterol levels. Limonene is also an appetite suppressant.
1- Brai BIC. Adisa RA. Odetola AA. Hepatoprotective properties of aqueous leaf extract of Persea Americana, Mill (Lauraceae) 'avocado' against CCL4-induced damage in rats. Afr J Tradit Complement Altern Med. 11(2):237-44, 2014.
FENNEL
Fennel is a medicinal plant with an aromatic scent peculiar to Southern Europe and the Mediterranean region. Fennel is an herb that has been used traditionally for many years in the treatment of various symptoms of the gastrointestinal and respiratory tracts. Known to be beneficial in increasing stomach and bowel movements, fennel is good for bloating, stomach cramps and spasms. Fennel has many useful functions besides providing a feeling of satiety and being good for constipation.
1- It is rich in essential minerals for the body!
Fennel is an excellent source of potassium, calcium, magnesium, iron, phosphorus and zinc.
2- It is a storehouse of antioxidants!
Antioxidants are essential substances we need to protect us from oxidative stress damage. Fennel is an excellent source of antioxidants in the diet. Flavonoids are important antioxidant substances that should be in our daily diet. Fennel is rich in many flavonoids such as quercetin, arabinosides, and studies have proven that these substances are immunomodulators. Based on this effect, it is thought that fennel has positive effects on diseases such as dementia and Alzheimer's.
3- Healing many diseases!
Fennel has biological activity due to the volatile and non-volatile compounds it contains. It has been reported by studies that it is therapeutic against colds, especially rheumatic diseases, and against gas and burning sensation in the stomach. Studies on fennel have proven that fennel has a reducing effect on allergic reactions.
4- Liver is protective!
Fennel protects liver health by eliminating the effects of substances that damage the liver, thanks to the substance called limonene it contains.
CITRUS AURANTIUM
aurantium extract is known as bitter orange extract, which is a product obtained from the unripe (green) fruit of the Seville orange. Also known as "Chih-shi" or "Zhi shi" in traditional Chinese medicine. Bitter orange extract is known for its effects on metabolic processes, including an increase in basal metabolic rate and fat burning, and mild appetite suppression.
1- It helps in weight loss!
Citrus aurantium, a bitter orange extract, contains a component called p-synephrine, which helps us in weight loss by increasing our metabolic rate. Studies have shown that p-synephrine increases exercise performance and thus supports fat burning.
2- It makes your skin beautiful!
Studies have proven that citrus aurantium extract has therapeutic properties against skin problems, thanks to the vitamin C it contains.
3- It is protective against cancer!
It is known that bitter orange extract has protective and therapeutic properties from ovarian and liver cancers, thanks to the antioxidant compounds called hesperidin and limonene.
GREEN TEA
Green tea is a type of tea made from the leaves of Camellia sinensis. Green tea has a powerful antioxidant capacity. Thanks to this effect, it is effective in protecting, preventing and treating various diseases.
1- It reduces the risk of cancer by fighting free radicals.
Green tea is one of the plants with the strongest antioxidant properties in nature. Thanks to this feature, it provides longevity by fighting cancer cells and prevents aging.
2- It increases the rate of metabolism.
Green tea facilitates weight loss by increasing fat oxidation and accelerating your metabolism. Thanks to this feature, it helps to protect us from various heart diseases, diabetes and cholesterol diseases by protecting us from the risk of obesity.
4- Strengthens your immune system!
Thanks to the polyphenols and flavonoids it contains, it helps to strengthen your immune system by fighting infections.
5- Protects your skin health.
Due to its antioxidant and anti-inflammatory properties, green tea keeps our skin moist and reduces wrinkles by regenerating cells.
CINNAMON BARK
The Latin name of cinnamon, whose homeland is South and South East Asia, is 'Cinnamomum Verum'. Cinnamon bark is one of the oldest known spices in human history. The benefits of cinnamon, which has been used for centuries by many civilizations in the medical field with its health-improving effects, have been proven by scientists. Especially the nutrients in cinnamon bark show various benefits in many parts of our body.
1- It protects you from diabetes by lowering blood sugar!
Insulin is one of the most important hormones that regulates metabolism and the body's energy use. Its main task is to balance blood sugar by transporting the sugar taken from food from the blood to the body cells. Studies have proven that an active ingredient in cinnamon bark reduces blood sugar by mimicking the hormone insulin. In studies on humans, cinnamon bark has been found to reduce blood sugar and insulin resistance.
Deyno S. Eneyew K. Seyfe S. Tuyiringire N. Peter EL. Muluye RA et al. Efficacy and safety of cinnamon in type 2 diabetes mellitus and pre-diabetes patients: A meta-analysis and meta-regression. Diabetes Res Clin Pract. 156:1-12, 2019.
2- It helps in the prevention of heart diseases!
In a study examining the effect of cinnamon bark on cholesterol levels, it was determined that individuals who took 1 gram of cinnamon powder per day had a decrease in bad cholesterol levels (LDL cholesterol). Known for its effect on blood cholesterol levels, cinnamon effectively protects us from heart diseases with this effect.
Gruenwald J. Freder J. Armbruester N. Cinnamon and health. Crit Rev Food Sci Nutr. 50(9):822-34, 2010.
3- It is good for stomach ailments!
Studies have proven that cinnamon bark relaxes the stomach, is a gas remover and helps to protect against diseases such as gastritis and reflux by reducing stomach acidity.
Ranasinghe P. Pigera S. Sirimal Premakumara GA. Galappaththy P. Constantine G. Katulanda P. Medicinal properties of 'true' cinnamon (Cinnamomum zeylanicum): a systematic review. BMC Complement Altern Med. 13(1):1-10, 2013.
LEMON PEEL
1- Strengthens the immune system!
Lemon peel contains vitamin C and pectin, which helps keep the immune system strong. Thus, it protects us against chronic diseases. Again, thanks to the vitamin B6 it contains, it plays a supportive role in the prevention of nervous system diseases.
2- Improves bone, teeth and skin health!
Thanks to the content of lemon peel, calcium and vitamin C, it prevents the bones from breaking, thus eliminating the risk of osteoporosis. Again, thanks to the citric acid and vitamin C it contains, it protects the health of blood vessels, renewing skin cells and keeping gums healthy.
3- Lemon peel reduces cellular stress in the body!
Free radicals are unpaired electrons found in the cells of our body, these electrons cause oxidative damage in the cell. Free radicals, which are the underlying cause of many diseases from autoimmune diseases to cancer, become ineffective thanks to the bioflavonoids contained in lemon peels. Lemon peel contains a flavonoid called limonene, which fights cancer and prevents cancer cells from dividing.
4- It regulates your bowel functions!
Lemon peel contains plenty of dietary fiber. Dietary fibers are effective in maintaining our intestinal functions. Pectin, which has many health benefits, is a dietary fiber abundant in lemon peel and helps prevent constipation.
DRIED PARSLEY
Scientifically known as 'Petroselinum Crispum', parsley is known for its health benefits. Let's take a closer look at parsley, which is a disease-repellent thanks to the vitamins and minerals it contains.
1- It helps to eliminate gas and bloating problems!
Parsley aids in digestion and helps remove toxins from the body. It reduces gas problems and is good for constipation by increasing bowel movements.
2- Strengthens the immune system!
The high vitamin A and C content of parsley protects us against diseases by strengthening the immune system. Vitamin C is also responsible for the production of collagen, which makes our skin beautiful. In this way, it provides the reduction of wrinkles on the skin and healing of wounds.
3- It is anti-inflammatory (anti-inflammatory)!
Thanks to the substance called luteolin in parsley, it reduces the inflammation in the body. In this way, it protects us against diseases such as inflammatory rheumatism and osteoarthritis.
4- It reduces the risk of cancer!
Thanks to the component called myristicin in parsley, it prevents the formation of tumors and protects us from the risk of cancer.
5- It is beneficial for bone health!
Vitamin K is essential for keeping bones strong in the body. Potassium, magnesium and calcium are minerals that make our bones strong. inside parsley
Okra SEED POWDER
Okra seeds are tiny seeds seen when you open the inside of the okra plant. Okra seeds are obtained by drying the seeds under the right conditions, and then they are used by pulverizing. This vegetable, which is a storehouse of vitamins, minerals and fiber, has many health benefits.
1- It is very rich in terms of potassium, iron, calcium and B and C vitamins!
Thanks to the vitamins and minerals it has, okra seeds help us protect our muscle and bone health.
2- It lowers cholesterol!
Thanks to the soluble fibers it has, it helps to protect heart health by positively affecting blood cholesterol.
3- It is protective against infections!
In order to protect against all kinds of infectious diseases caused by microorganisms such as viruses, bacteria, fungi and to heal quickly if there is a disease, okra seeds will heal you.
4- Provides satiety for a long time! Makes it easier to lose weight!
Dietary fibers are one of the nutritional substances that are resistant to digestive enzymes. Foods rich in fiber keep blood sugar in balance and provide satiety for a long time, making us hungry later. In this context, okra seeds help us lose weight by providing satiety for a long time. Its dietary fibers also protect us from constipation, gas and intestinal laziness by ensuring the functioning of the digestive system. Thanks to its potassium content, it provides relief from edema and swelling.
5- It ensures that the brain and nerve cells are healthy!
Thanks to the B vitamins it contains, okra seed improves cognitive functions by ensuring the healthy functioning of the nervous system. In this context, it helps to reduce problems such as forgetfulness, difficulty in concentration and insomnia.
ROIBOS
The Rooibos plant, which is native to the Cederberg Mountains of South Africa, is a plant that has different health benefits as well as its delicious taste. When the leaves of the Rooibos plant are subjected to the fermentation process, they oxidize and take on a red color. Thanks to its antioxidant capacity, vitamins and minerals, it has beneficial effects on the immune system, digestive system and skin.
1- It has a high antioxidant level!
As a result of the studies, it has been proven that antioxidants that attack free radicals and reduce their harmful effects are found in excess in the Rooibos plant. Thanks to this effect, Rooibos slows down the aging process and makes us more fit. In studies with tea obtained from the Rooibos plant, it has been proven that the antioxidant capacity of the body of individuals who consume Rooibos tea increases. Thanks to this effect, it has also been proven to be protective against cancer and heart diseases.
2- It is a mineral store!
Rooibos plant contains magnesium, which is necessary for the nervous and muscular system, calcium for strong bones, zinc for the immune system to stay strong and the metabolism to work, and iron for anemia.
3- It provides a brighter skin!
Thanks to its rich zinc content, it contributes to a healthier and smoother skin. Studies have proven that individuals with acne (acne) problems reduce the appearance of acne as a result of consuming Rooibos.
4- It contributes to a good sleep!
Unlike other tea plants, the rooibos plant does not contain caffeine. Therefore, it has relaxing effects on the nervous system. If you have sleep problems and headaches, METAÇAY will be good for you thanks to its Rooibos content.
5- It facilitates digestion!
Rooibos relieves stomach cramps, indigestion and heartburn by relaxing the digestive system thanks to the flavonoid antioxidant substances it contains.
6- It helps to lose weight!
Leptin is a hormone that sends signals to the brain to help regulate food intake, creating a feeling of satiety in the body. Studies have proven that Rooibos helps to lose weight by increasing Leptin levels.
DRY WHITE CABBAGE POWDER
Let's examine the benefits of white cabbage, which is protective against many diseases thanks to the sulfur compounds, vitamins and minerals it contains!
1- It has strong antioxidant properties!
White cabbage has a protective feature from winter diseases and cancer thanks to its strong antioxidant properties. In particular, it shows protective properties against stomach, intestinal and lung cancers. However, studies have proven that it has benefits against fatty liver.
2- It regulates digestion!
Thanks to its sulfur content, white cabbage strengthens the immune system. Studies have shown that sulfur compounds are protective against gastritis and ulcers, and also increase the functioning of the digestive system.
3- It helps the continuity of brain health!
Thanks to the vitamin K it contains, white cabbage helps brain cells to work and stay healthy.
4- It helps to eliminate skin problems!
The sulfur compounds of white cabbage show therapeutic properties against skin problems such as eczema, psoriasis, acne and rash that occur in the body. Cabbage also provides strong hair thanks to the source of vitamin A and beta-carotene it contains.
CORN TASSEL
Corn is one of the most popular foods. Corn, which is one of the local foods of America, was first transported to Europe and then to Africa and spread all over the world. We love and consume corn very much, but do we know the benefits of the pasculum part? These pascules, located in the upper part of the corn, have been used in the treatment of various diseases since ancient times.
1- It helps you relax!
Corn tassels help calm the person by reducing stress. Thanks to this feature, it also helps to eliminate the restlessness and hypersensitivity that occur during the menstrual period, known as premenstrual syndrome.
2- It is a storehouse of vitamin C!
Vitamin C is one of the indispensable vitamins for the protection of our heart health and regular blood flow. Corn tassels, on the other hand, protect us against heart diseases by providing these properties thanks to their high vitamin C content.
3- It contributes to the regularity of your digestive and excretory systems!
It has been proven that tea made with corn tassel helps prevent problems such as indigestion by facilitating digestion, and contributes to the removal of toxins and other harmful substances from the body thanks to its diuretic feature. If you have edema problems, corn silk will be a very good alternative for you.
4- It is protective against skin problems!
Thanks to its antibacterial and antiseptic properties, corn silk helps to remove infections and microbes that cause skin problems.
CARDAMOM
Cardamom is a favorite plant of South India and Southeast Asia. Belonging to the ginger family, cardamom has been used in the treatment of various diseases since ancient times. Especially its effects on digestive health attract attention.
1- Protects digestive health!
Stomach acid secretion is an essential factor for our digestive health. Medications, wrong diet and medical treatments cause insufficient stomach acid secretion. Cardamom protects you from digestive system problems such as indigestion, gas, bloating, stomach infection and nausea by increasing your stomach acid level.
2- It is also useful to deal with depression and panic attacks!
Cardamom is an effective antidepressant. Thanks to its calming feature, it fights depression, anxiety and panic attacks and helps you stay calmer. Cardamom is a good alternative for a good night's sleep.
3- It is necessary for strong memory!
Cardamom is important for a strong memory, thanks to its vitamin A content.
4- Supports edema removal!
The antiseptic feature of cardamom increases the elimination of edema from the body by ensuring the healthy functioning of the kidneys.
5- It is important for heart health!
Cardamom is a spice rich in minerals. It contains plenty of minerals such as potassium, calcium and magnesium. Among these minerals, especially potassium is an extremely effective mineral in heart rate and blood pressure. It also significantly reduces the risk of stroke.
GUARANA
Guarana is a Brazilian plant native to the Amazon basin. Amazonian tribes have used Guarana for centuries for its therapeutic properties.
1- Rich in Antioxidants!
Guarana is loaded with compounds with antioxidant properties. These include caffeine, theobromine, tannins, saponins, and catechins. Antioxidants are important because they neutralize potentially harmful molecules called free radicals. These molecules can interact with parts of your cells and cause damage linked to aging, heart disease, cancer and other diseases. Studies have shown that the antioxidant properties of Guarana can fight the growth of a cancer cell, reduce the risk of heart disease and skin aging.
2- It reduces your fatigue and improves your focus!
Guarana is an excellent source of caffeine, which helps you focus and maintain your mental energy. Interestingly, research also shows that guarana can reduce mental fatigue associated with cancer treatment without significant side effects.
3- It can help you learn better!
Studies have shown that guarana can improve your ability to learn and remember. One study looked at the effects of different doses of guarana on mood and learning. This research has shown that guarana can improve your ability to learn and remember.
4- It helps in weight loss!
The first reason for this is that guarana is a rich source of caffeine. Caffeine can speed up your metabolism by 3-11% in 12 hours. A faster metabolism means your body burns more calories at rest.
5- If you have a chronic intestinal problem, it is therapeutic!
Guarana has been used for centuries as a natural stomach tonic to treat digestive issues such as chronic diarrhea and constipation. It is rich in caffeine, which can act as a natural laxative. Caffeine stimulates peristalsis, a process that activates contractions in the muscles of your intestines and colon. This acts to relieve constipation by pushing the contents into the rectum.
6- Increases heart health!
The first reason is that the antioxidants in guarana can help blood flow and prevent blood clots. Second, studies have shown that guarana can reduce the oxidation of "bad" LDL cholesterol. Oxidized LDL cholesterol contributes to plaque buildup in your arteries. Studies have proven that adults who consume guarana have up to 27% less oxidized LDL than adults of similar age who do not eat this fruit.